Summary Day 1
19th International Dialogue on Population and Sustainable Development
Virtual dialogue brings together experts from across the globe to discuss how to ensure young people can realise their sexual and reproductive health and rights (SRHR) and create the future they want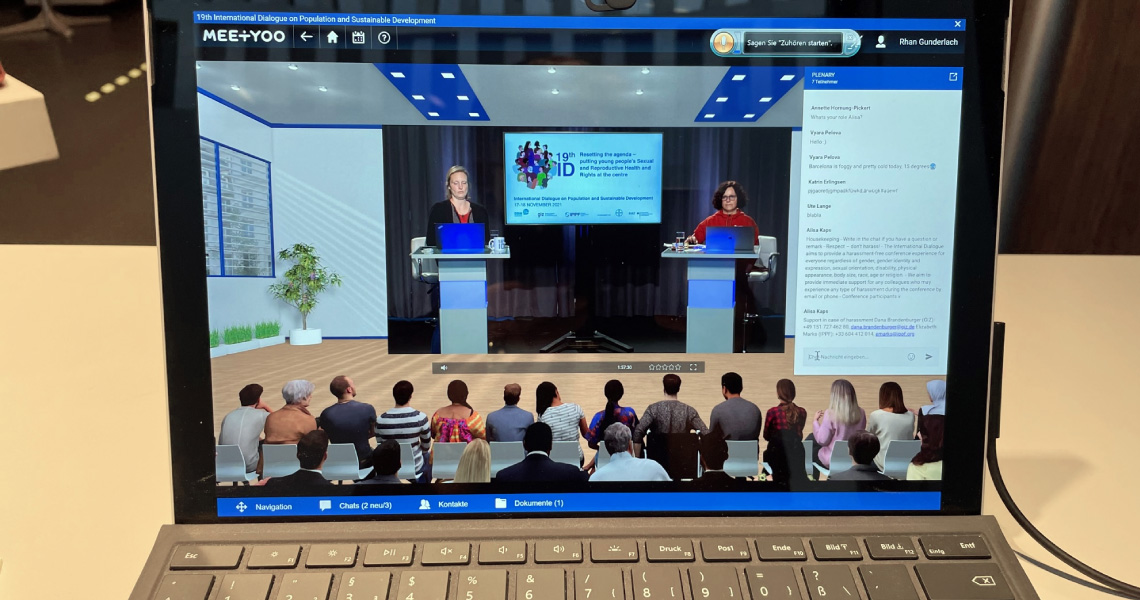 Dozens of experts from four different time zones met at the 19th International Dialogue on Population and Sustainable Development to debate and share their visions for removing barriers preventing young people from realising their SRHR.
The first day of the International Dialogue – held virtually for the second year in a row because of the COVID-19 pandemic – was divided into two sessions. Both the early-morning and the late-afternoon session comprised panel discussions and a variety of workshops, so delegates from around the globe could join at the most convenient time for them.
Finding solutions for youth and for the future
After a 20-minute 'virtual coffee and chat' for all, Frank Strelow, VP, Head of Sustainability, Pharmaceuticals, at Bayer AG welcomed delegates to the International Dialogue, which he described as a "safe space to explore ideas, build alliances, strategize, and find new ways forward". He stressed that the Dialogue offers a valuable way for stakeholders from many different countries and backgrounds to come together and discuss recent challenges and opportunities in SRHR.
The delegates also enjoyed welcome remarks by Dr. Natalia Kanem, Executive Director of the United Nations Population Fund (UNFPA) who told them "when young people have the power to make informed choices about their bodies, their lives and the world they live in, we are all better off".
Ensuring adolescent and youth-friendly health services
In the subsequent panel discussion, the speakers elaborated on some specific strategies for overcoming barriers to reaching the SRHR-related Sustainable Development Goals (SDGs) for and by young people. Among the suggested action points was a call for more integrated and youth-friendly services. Young people need a variety of services, amongst others contraception, HIV counseling and testing, treatment of sexually transmitted infections, pre- and postnatal care and access to mental health services. In order to ensure that health services are truly youth-friendly, it is crucial to understand adolescents' specific needs. Helga Fogstad, Executive Director of the The Partnership for Maternal, Newborn and Child Health (PMNCH), reminded delegates of the need to listen to young women in designing sexual and reproductive health (SRH) services. "It's so much more cost-effective to include them", she said. However, youth-friendly services also require strong health systems to function. Therefore, strengthening health systems remains a priority. At the same time, it is essential to provide universal access to integrated services as Suki Beavers, Director of the Department Gender Equality, Human Rights and Country Engagement at UNAIDS explained. She said she "welcomed the shifts to more holistic services" but that further integration was needed.
Policy and legal reforms are vital for moving SRHR forward
The panelists were in agreement about the significance of policy and legal reforms for overcoming barriers to SRHR. Suki Beavers of UNAIDS addressed the fact that criminal law is applied in many countries to prohibit access to certain SRH information and services. The reality is that young people are having sex and statistically, many will experience their first sexual encounter before the age of 16. Yet, age of consent restrictions are an issue if they prevent adolescents under the age of consent from seeking advice or help. Suki Beavers called for the removal of parental consent, so adolescents are able to access and make use of services such as HIV testing at their own deliberation and will.
Fostering an enabling environment for young people
Creating an environment that promotes sexual health in which young people feel safe and supported and have access to youth-friendly services is another strategy for ensuring their SRHR - yet societal norms that dictate what is and is not appropriate often deny them this. To tackle social barriers, training and sensitization are needed for healthcare professionals, teachers, parents and community leaders to increase awareness of SRHR and the acceptance of comprehensive sexuality education. Ishita Chaudhry, Ashoka Fellow and Founder of The YP Foundation called for "the need to break down intergenerational barriers between governments, policy makers and young people to make communication on SRHR policy easier." Claudia Warning of the German Federal Ministry for Economic Cooperation and Development (BMZ) emphasised the need to work with health personnel as well as with key stakeholders at the community level, including parents and religious leaders. She offered the example of the BMZ's successful cooperation with religious leaders in Guinea, in the fight against female genital mutilation, which has led to a doubling of the number of young people opposed to FGM.. The discussion also addressed young people's need for safe spaces to engage and learn, especially as the pandemic has reduced the availability of these spaces to a large extent. Suki Beavers from UNAIDS said, "we must focus on preparedness for future pandemics and that means dealing with systemic inequalities and providing funding and space for young people to claim their space and lead."
Inviting young people to the table
One good example of meaningful youth participation and engagement was presented by Joris Jurriens, Head of the Health and AIDS Department at the Ministry of Foreign Affairs in the Netherlands. He emphasised that "youth are at the core of SRHR, so it's logical to involve them fully, actively and meaningfully". Therefore, the Netherlands Ministry of Foreign Affairs includes a youth ambassador for SRHR in decision- and policy-making processes on SRHR programs. Despite some positive examples, Tikhala Itaye, Executive Director of HeR Liberty and SheDecides Global Champion, said "progress is slow in engaging young people in discussions and implementing programmes on sexual health. Despite progress made, this work is still fragmented and tokenism is still evident.". Ms. Itaye suggested embedding the participation of a diverse selection of young people into all systems, including adolescents from more marginalized groups. "She said they must be included in meetings and when creating programs so decision makers have to listen. Also, young people must be equipped with the appropriate skills. "Young people are our future leaders", she said, "so they need to be at the forefront of program implementation". Helga Fogstad from PMNCH put it simply. "Make meaningful youth engagement for young people explicit! Then you can address it with tools and embed it in daily actions".
SRHR is a cornerstone of a more equal post-COVID world
Progress has been made but it's clear much effort is still needed to reach the SDGs related to SRHR. Ishita Chaudhry from The YP Foundation reiterated that the lack of good quality investments, the repercussions of climate change, authoritarian regimes, shrinking civil society spaces and political instability, as well as the COVID-19 pandemic in the Global South have further exacerbated the stigmas that adolescents and young people face and the hurdles they must overcome to access their SRHR". Angela Bähr, Director of Projects and Programmes and Deputy Executive Director of DSW - Stiftung Weltbevölkerung, acknowledged the damage done by the pandemic in particular. But she insisted that "COVID is giving us the opportunities to say we must build back better and put youth at the heart of what we do. If we are persistent and raise our voices, we can find new allies for our common cause." As the entire first day of the International Dialogue has shown it is essential that young people have the chance to lead a rights-based life and take autonomous decisions related to their bodies and their SRHR. Only if this is ensured and if they are involved in the process, they can emerge stronger from crises and become powerful members of society.